With its timeless design, unmatched comfort, and a rich cultural history, Nike Air Force 1 has become a fashion staple that has captivated the world since its creation in 1983.
The Air Force 1 Low is a classic yet versatile sneaker that is guaranteed to elevate one's style to new levels. Sneaker enthusiasts can get ready as the brand prepares to introduce a fiery colorway for this model. The Air Force 1 Low "University Red" deviates from the shoe's traditional subdued color palette that includes the "Triple Black" and "Triple White" variations.
The AF1 Low "University Red" will be available for purchase on April 1, 2023, at Nike stores, the SNKRS app, and select sneaker retailers, with a retail price of $150.
Nike Air Force 1 Low "University Red" sneakers will only be available in men's sizes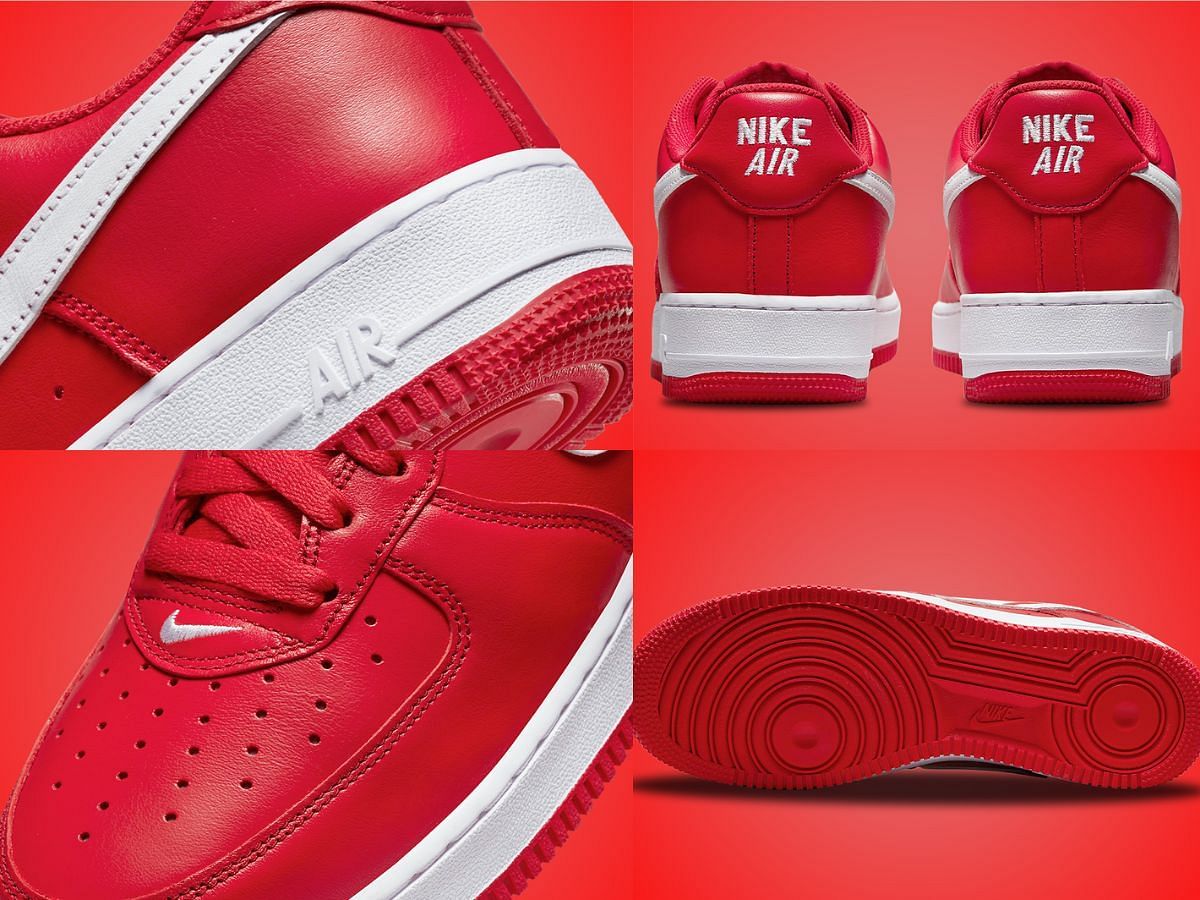 The soon-to-be-released model is constructed entirely of leather, which provides a soft and smooth feel to the wearer. The new colorway features a vibrant university red hue that covers most of the upper, except for the Swoosh, which is presented in a contrasting white shade.
This clean accent extends all the way to the underfoot Air midsole. Additionally, for those who find the all-red color scheme a bit overwhelming, the brand includes an extra pair of white laces in the shoe box.
In their introduction of the new AF1, the sneaker brand stated,
The Air Force 1 was initially introduced in 1982 and designed by Bruce Kilgore. Named after the airplane that transports the President of the United States, this sneaker model was the first basketball shoe to incorporate Nike Air technology.
Furthermore, the Air Force 1 was originally released in a high-top silhouette and featured a white and gray colorway. It quickly gained popularity among basketball players and sneaker enthusiasts.
In 1983, Nike launched the Air Force 1 Low, which had a lower cut compared to the original high-top version. The Air Force 1 Low was designed to be more versatile and suitable for both on-court and off-court wear. Like the high-top version, it utilized Air technology and a leather upper.
Over the years, the brand has introduced numerous variations of the Air Force 1 Low, including collaborations with designers and artists. The shoe has become a cultural icon and is frequently seen in hip-hop and streetwear fashion.
The Air Force 1 Low remains a popular sneaker and is available in an extensive range of colors and materials. It is regarded as a timeless classic and a must-have in many sneaker collections.
'; }); pollOptions.innerHTML = pollOptionsDom; pollCount.innerHTML = totalVotes + ' votes'; } function updatePollCountOnAnswer(selectedOption) { var pollData = pollDataDefault; renderPollWidget(pollData, selectedOption, true); } function renderPollWidget(pollData, selectedOption, isAnswered) { if (!pollData) return; pollData.option1_count = pollData.option1_count || 0; pollData.option2_count = pollData.option2_count || 0; pollData.option3_count = pollData.option3_count || 0; pollData.option4_count = pollData.option4_count || 0; if (isAnswered) { if (selectedOption == "option1") pollData.option1_count += 1; if (selectedOption == "option2") pollData.option2_count += 1; if (selectedOption == "option3") pollData.option3_count += 1; if (selectedOption == "option4") pollData.option4_count += 1; } if (isAnswered || selectedOption) { var predictorPromotionalBannerContainer = $(".predictor-contest-banner-container.Article-poll"); if (predictorPromotionalBannerContainer) { removeClass(predictorPromotionalBannerContainer, "hidden"); } } var totalVotes = Number(pollData.option1_count + pollData.option2_count + pollData.option3_count + pollData.option4_count); if (totalVotes && !Number.isNaN(totalVotes)) { var option1Percent = pollData.option1_count / totalVotes * 100; var option2Percent = pollData.option2_count / totalVotes * 100; var option3Percent = pollData.option3_count / totalVotes * 100; var option4Percent = pollData.option4_count / totalVotes * 100; var optionPercentages = [option1Percent, option2Percent, option3Percent, option4Percent]; var pollOptions = $("#poll-options"); var pollCount = $("#poll-count"); var pollOptionsDom = "; var optionsArray = ['option1', 'option2']; if (pollData.option3 !== "" && pollData.option3 !== null) { optionsArray.push('option3') } if (pollData.option4 !== "" && pollData.option4 !== null) { optionsArray.push('option4') } optionsArray.forEach(function (option, index) { var clickHandler = 'onclick="answerPoll(event, " + option + ")"'; var optionClass = ['poll-option']; if (selectedOption) { optionClass.push('poll-option-answered'); clickHandler = "; } if (selectedOption === option) { optionClass.push('poll-option-selected'); } pollOptionsDom += '
'; if (selectedOption) { var widthPercentage = optionPercentages[index] < 5 && optionPercentages[index] != 0 ? 5 : optionPercentages[index]; if (selectedOption === option) { if (widthPercentage > 97) { pollOptionsDom += '
' + Math.round(optionPercentages[index]) + '%
'; } else { pollOptionsDom += '
' + Math.round(optionPercentages[index]) + '%
'; } } else { if (widthPercentage > 97) { pollOptionsDom += '
' + Math.round(optionPercentages[index]) + '%
'; } else { pollOptionsDom += '
' + Math.round(optionPercentages[index]) + '%
'; } } } pollOptionsDom += '
' + pollData[option] + '
'; if (selectedOption) { pollOptionsDom += '
' + Math.round(optionPercentages[index]) + '%
'; } pollOptionsDom += '
'; }); pollOptions.innerHTML = pollOptionsDom; pollCount.innerHTML = totalVotes + ' votes'; if (totalVotes > 10) { pollCount.classList.remove("hidden"); } trackArticlePollImpression(pollData); } } function answerPoll(e, selectedOption) { e.preventDefault(); try{ permutive.track('PollResponse',{ "pagetype": "Articlepage", "category": "SK POP", "answer": { "text": e.target.textContent }, "question": { "text": pollDataDefault.question } }); } catch (err) { console.log(err); } updatePollCountOnAnswer(selectedOption); var isDesktop = "1"; var gaPayload = { "question" : pollDataDefault.question, "answer" : e.target.textContent, "answer_option" : selectedOption.replace("option", "Option "), "category": "SK POP", "page_location": window.location.href, } if (isDesktop) { gaPayload["device"] = "Desktop"; } else { gaPayload["device"] = "Mobile"; } gtag("event", "ARTICLE_POLL_RESPONSE", gaPayload); var url = 'https://a-gotham.sportskeeda.com/polls//response'; var data = { "poll_type": "article", "option": selectedOption } pureJSAjaxPost(url, data, onPollResponseSuccess.bind(this, selectedOption), onPollResponseFail.bind(this, selectedOption), null, false); } function trackSponsoredLinkClick(e) { } var articlePollImpressionTracked = false; function trackArticlePollImpression(pollData) { var pollElement = $("#poll"); var intersectionObserverForArticlePoll = new IntersectionObserver( function(entries) { entries.forEach(function(entry) { if (articlePollImpressionTracked) return; if (!entry.target || !entry.isIntersecting || entry.intersectionRatio < 0.5) return; setTimeout(function() { if (isInViewport(entry.target)) { articlePollImpressionTracked = true; var isDesktop = "1"; var gaPayload = { "question" : pollData.question, "category": "SK POP", "page_url": window.location.href, } if (isDesktop) { gaPayload["device"] = "Desktop"; } else { gaPayload["device"] = "Mobile"; } gtag("event", "ARTICLE_POLL_IMPRESSION", gaPayload); intersectionObserverForArticlePoll.unobserve(entry.target); } }, 1000); }); }, { threshold: 0.5 } ); if (pollElement){ var isAnswered = pollElement.querySelector(".poll-option-answered"); if (!isAnswered) { intersectionObserverForArticlePoll.observe(pollElement); } } }