In the United States, high school serves as the culmination of primary education and is divided into four distinct year levels: 9th, 10th, 11th, and 12th grade. It is a significant period for teenagers as they navigate learning to drive, forming friendships, entering romantic relationships, and beginning to consider their college options.
In addition to the numerical grade levels, high school in America also assigns names to each year: freshman, sophomore, junior, and senior. This system may initially be confusing if you're unfamiliar with it. To provide clarity, we have researched the origins of each name and included some basic information about each year of high school.
Year One: Freshman (9th Grade)
What grade is considered freshman?
Freshman indicates the 9th grade.
The term "freshman" originated in the mid-16th century and originally meant "newcomer" or "novice." Today, it specifically refers to students entering their first year of high school. Most teenagers begin 9th grade at the age of 14 and turn 15 before the year ends.
Year Two: Sophomore (10th Grade)

What grade is considered a sophomore?
A sophomore represents the 10th grade.
The word "sophomore" is believed to have originated from two Greek terms: "Sophos," meaning "wise," and "Moros," meaning "foolish." While being deemed a "wise fool" may sound peculiar, it's important to remember that as a teenager, there is still much to learn, and that's perfectly alright! The term "sophomore" was first used in the 1650s to describe university students in their second year of study. In the 10th grade, students are typically 15 to 16 years old.
Year Three: Junior (11th Grade)

What grade is considered a junior?
A junior designates the 11th grade.
The term "junior" dates back to the 13th century when it was initially used to describe someone younger than another person. In the 11th grade, students are considered upperclassmen and should begin contemplating their post-secondary options. Most students in this grade level are between 16 and 17 years old.
Year Four: Senior (12th Grade)

What grade is considered a senior?
A senior denotes the 12th grade.
The term "senior" has been present in the English language since the mid-14th century to describe an older or more authoritative person. However, it wasn't used to indicate fourth-year students until the 17th century. The 12th grade marks the final year of high school, with students typically turning 18 by the end of the year. At the beginning of the school year, it is advisable to start narrowing down one's post-secondary options to ensure timely applications by the end of January.
The Order of High School Years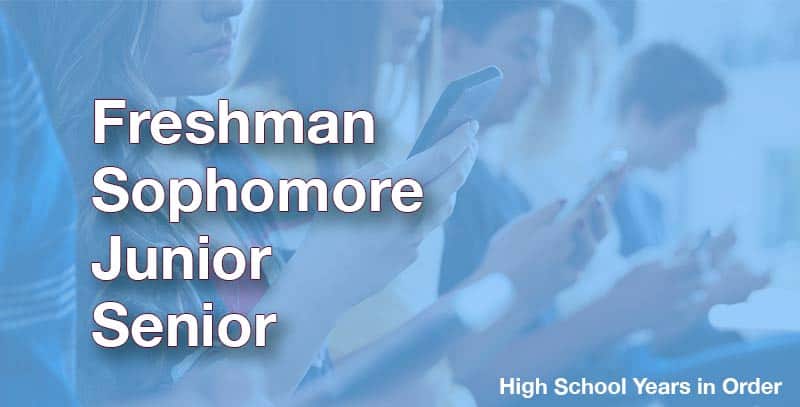 The order in which high school years progress is as follows: freshman, sophomore, junior, senior.
This list begins with the earliest year, which is freshman (9th grade), and concludes with senior (12th grade).
What are the Grade Levels in High School?
The grade levels in high school are as follows:
9th Grade – Freshman
10th Grade – Sophomore
11th Grade – Junior
12th Grade – Senior
The names assigned to each high school year level may initially be challenging to remember, but after spending a day or two familiarizing yourself with them, you will become accustomed to them. Once you enter the realm of high school as a freshman, you will learn the years and be able to effortlessly recite them.
If you wish to solidify your understanding of the names for each high school year level, it may be helpful to write them down on a piece of paper or index card and study them. Include the grade, the corresponding year name, the age of students, and any additional information mentioned above that aids in memorization. With a bit of focused study, you will soon become well-versed in the names associated with each year of high school!
Freshman, Sophomore, Junior, Senior
Now that we have thoroughly explored the number of years in high school and delved into the names assigned to each year, you are fully prepared for your academic journey!
Thank you for joining us in this informational guide. If you are entering high school and desired a comprehensive understanding of the year names, rest assured that after a few days of attending classes, they will become second nature to you.