Summary
There is an ongoing debate about whether university education should be freely available. Proponents argue that making higher education accessible to all is beneficial for society and the economy, as it ensures a skilled workforce and reduces inequalities. On the other hand, opponents suggest that government spending on university education may be better allocated to other forms of education and vocational training that are more relevant to the needs of the economy. This article examines both perspectives.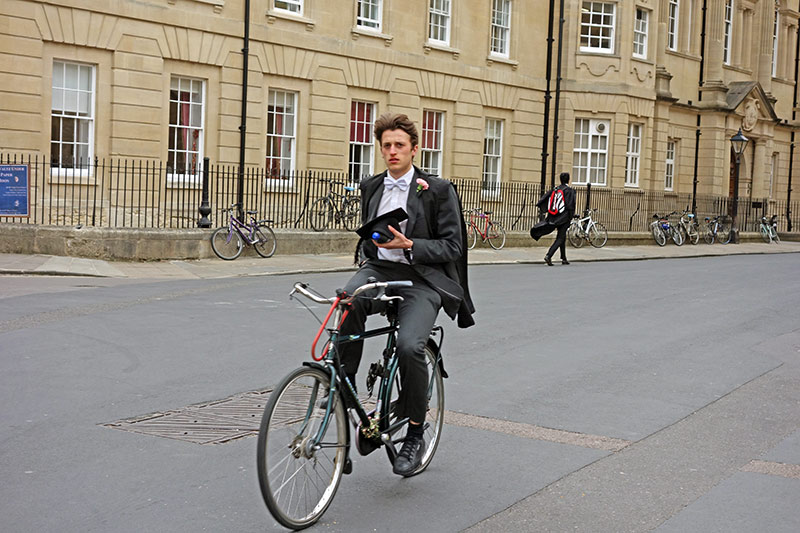 However, others argue the positive externalities of higher education are limited, and the prime beneficiaries of a university degree are the graduates who can command a higher paying job. If the external benefits of many degrees are limited, government spending may be misallocated in offering relatively expensive university education. Rather than fund 3-4 year university degrees, governments may be able to get a better return from spending money on primary education and vocational training – training which is more relevant to the needs of the economy.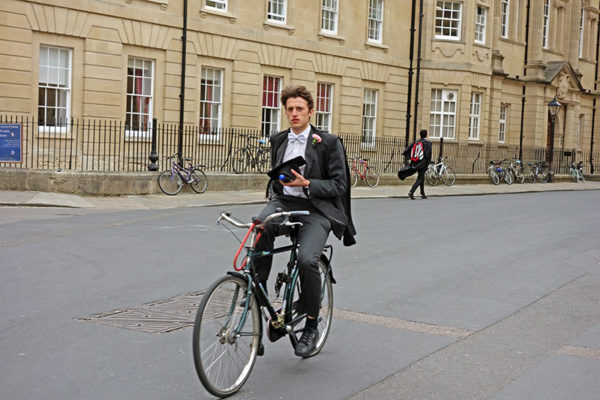 More details
In recent years, the UK government has sought to increase the amount students pay for studying at university. In the UK, the government have phased out grants and introduced top-up fees. With tuition fees and rising living costs, students could end up paying £50,000 for a three-year degree, and leave university with significant debts.
Some argue this is a mistake. Charging for university education will deter students and leave the UK with a shortfall of skilled labour – and arguably this will damage the long-term prospects of the UK economy. Furthermore, charging to study at university will increase inequality of opportunity as students with low-income parents will be more likely to be deterred from going to university.
Arguments for cost-free university education
Positive externalities of higher education. Tertiary education provides societal benefits by creating a more educated and productive workforce. Nations with higher rates of university education generally experience greater levels of innovation and productivity growth. Consequently, government subsidies for higher education can be justified to foster these benefits.
Equality. Advocates for free university education argue that it promotes equal opportunity. If students have to bear the financial burden, it may discourage them from pursuing higher education. While loans and part-time work may be options, they may be insufficient to overcome financial barriers, potentially forcing students to enter the job market prematurely.
Increased specialization of labor. As economies increasingly focus on higher-tech and higher value-added industries, there is a greater demand for skilled graduates who can contribute to these sectors. This underscores the need for accessible university education to meet these specialized labor requirements.
Education as a merit good. Higher education is considered a merit good because its benefits may be undervalued. Government provision can encourage individuals to pursue further education and recognize its value.
Rising costs for young people. The escalating cost of living, including housing and living expenses, poses challenges for young people, even those who are employed. The prospect of accumulating student debt alongside high living costs may discourage individuals from pursuing higher education. Providing free tuition fees can help alleviate income inequality across generations.
Non-economic benefits of education. University education offers intangible benefits to society beyond monetary returns. Graduates gain valuable skills and civic awareness that contribute to the overall well-being of the community.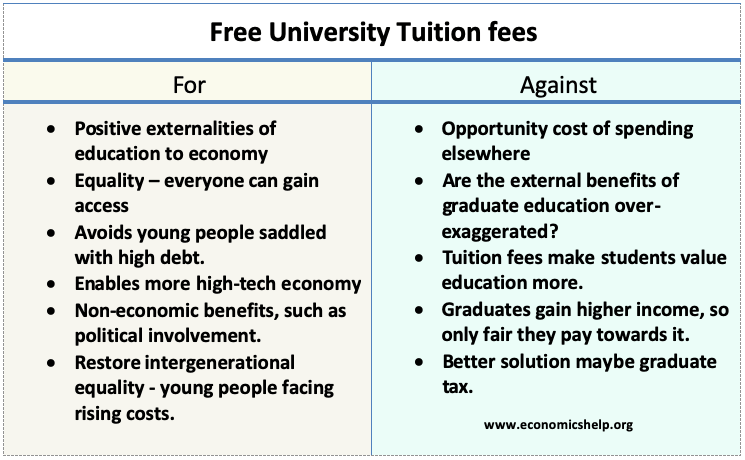 Source: Times Higher Education
Higher Learning, Greater Good: The Private and Social Benefits of Higher Education (2009) examined the non-market benefits of having a degree, including improved personal health, cognitive development in children, reduced spending on prisons, and greater political stability.
If we are to evaluate these benefits, we must consider whether civic virtues stem from university education itself or if they are more prevalent among the middle class, who are more likely to have better health and other advantageous attributes.
Arguments against cost-free university education
Opportunity cost. Advocates for charging students argue that the billions spent on free university education come at the expense of higher taxes or reduced spending in other areas. They suggest that investing in vocational training could address skill shortages in industries such as building, healthcare, plumbing, social care, and construction. In these fields, there is a scarcity of individuals with core generic skills like literacy, numeracy, and communication. Charging students for university education could redirect public funds towards tackling these fundamental skill gaps.
Overabundance of graduates. The significant increase in the number of graduates in recent decades has resulted in a mismatch between education and available jobs. A study found that nearly 50% of recent university graduates are employed in jobs that do not require a degree. Consequently, expanding university education further may not benefit the economy as much as focusing on developing other vocational skills.
Preserving quality of education. The rapid growth in student numbers has strained university resources. With limited government funding, there is a risk that educational standards, quality of teaching, and the international reputation of UK universities may suffer. Allowing universities to charge students can help maintain these standards and ensure the country's education system remains competitive.
Fostering appreciation for education. Arguably, requiring students to bear some financial responsibility for their education may instill a greater sense of value and motivation. Making higher education free could lead to a lax attitude and an inclination to prioritize leisure over academic pursuits.
Signaling the capacity of graduates. Higher education serves as a signal to employers that graduates possess valuable skills and capabilities, often resulting in higher earnings. Therefore, those who benefit economically from university education could contribute to its funding, especially considering that middle-class families have higher representation in higher education.
Another aspect to consider is whether it is necessary for 50% of 18-year-olds to attend university. The increase in student numbers has placed financial strain on universities. Instead of encouraging all students to automatically pursue a university degree, it may be more beneficial to promote vocational training as an alternative path, reducing the cost per student.
Furthermore, the issue of charging students for university education raises concerns about the magnitude of resulting debts. Financing university education through a graduate tax, where payments are made once graduates achieve a certain income level, could be a less discouraging alternative.
Abolition of Tuition Fees
In the 2017 and 2019 elections, the Labour party proposed the abolition of tuition fees, estimated to cost £16 billion.
Related
How should university education be funded?
Arguments for Free Education
Arguments against Free education