During a recent Notre Dame information session, the topic of admission revocation was brought up. The speaker discussed the importance of the high school transcript in the college application process.
According to the speaker, Notre Dame requires students to submit their second-semester transcript from senior year. If there is a significant drop in grades, the admissions officers have the right to rescind their acceptance.
This raises an important question: how bad do your grades have to be for your admission to be revoked?
A moderate decrease, such as going from straight A's to straight B's, is unlikely to lead to admission revocation. However, a dramatic decrease, with grades dropping from straight A's to C's, D's, and E's, can give a college valid reason to revoke your acceptance.
Understanding Admission Revocation
When your admission is revoked, it means that the college has invalidated your acceptance into their institution. While there can be various reasons for admission revocation, a significant drop in grades is one of the most common causes.
Consider this scenario:
Imagine a student who has excelled throughout high school, with a 3.94 unweighted GPA and a 4.66 weighted GPA. They have consistently earned top grades and taken challenging courses like APs/IBs and honors.
After submitting their college applications, they receive the exciting news that they have been accepted into their dream school, such as UChicago. However, during the last semester of senior year, the student succumbs to senioritis, and their grades plummet from straight A's to C's and D's.
When UChicago asks for their second-semester transcript, they submit a record filled with C's and D's. Shortly after, they receive an email stating that their admission has been revoked due to the drastic drop in grades.
The Severity of Grade Drops
For a college to consider revoking your admission, there must be a significant and noticeable drop in your grades. Using the aforementioned example, submitting an unweighted GPA of 3.94 and a weighted GPA of 4.66 suggests a consistently high level of academic performance.
If your grades only decrease to straight B's in the second semester, it is unlikely to cause major concern. However, if your grades plunge to C's, D's, and E's, it will raise significant alarms, especially considering your previously outstanding academic record.
In the eyes of college admissions officers, it may seem like you have decided to abandon your hard work and let your standards slip.
I recently interviewed Kate, a recent graduate from Duke University, who shared her senior year experience. She mentioned that she and many other students at her school had eased off during their final year of high school.
When I asked if she had worried about admission revocation, she explained that as long as she met the minimum requirement set by her college (a 3.0 GPA in her case), she felt confident that her acceptance would not be revoked.
A slight decrease in grades will typically not result in admission revocation. However, a significant drop in letter grades is more likely to have that effect.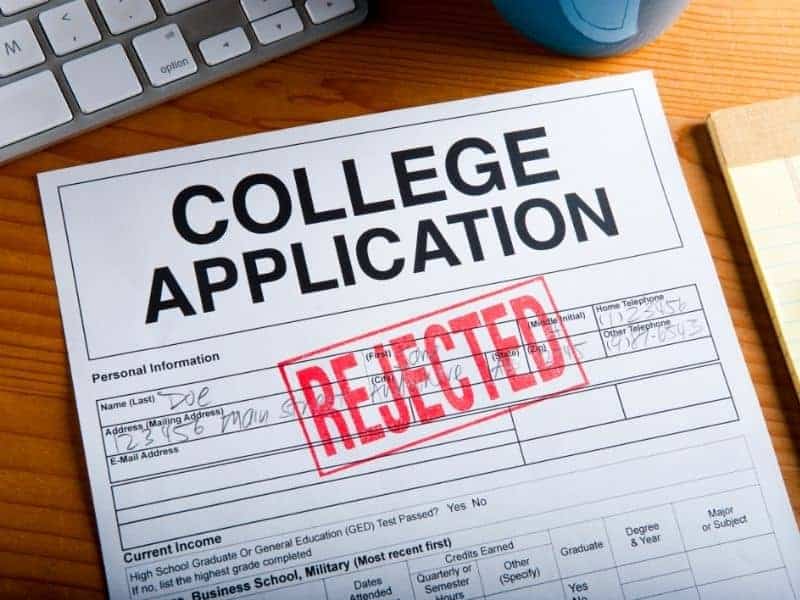 Frequency of Admission Revocation
Fortunately, admission revocation is not a common occurrence for most students who have been accepted into a college. While it is possible and some colleges have likely revoked admissions in the past, it is not an annual event affecting a large number of students.
Steps to Take If Your Admission Is Revoked
If your acceptance is revoked, there are actions you can take. In most cases, you will receive an email notifying you of the revocation, and sometimes, the college may provide an opportunity for you to explain your circumstances.
When you receive such an email, it is essential to contact the college immediately. While there is no guarantee of having your admission reinstated or being given a chance to explain, it is crucial to make every effort to resolve the situation.
Impact on Other College Acceptances
It is unclear whether a college will inform other institutions about the revocation of your acceptance. Attempts to seek clarification from colleges were unsuccessful.
However, it is worth noting that most colleges require submission of second-semester transcripts. If there is a significant drop in grades, all colleges to which you have applied may become aware and make their own decisions based on that information.
In some cases, colleges reserve the right to inform other institutions if they have revoked your acceptance. While this may seem excessive, it is within the college's prerogative, so it is advisable not to take any chances.
Other Reasons for Admission Revocation
Aside from a drop in grades, there are two other major reasons why a college may revoke an application.
Disciplinary Violations
Several actions fall under this category, including drug use (including alcohol), arrests, suspensions, and involvement in violent incidents. Drug/alcohol use and violence are self-explanatory, while arrests can be for any illegal activity.
It is also important to exercise caution when using social media. Inappropriate posts or content can have consequences, just like in the workplace. A case at Harvard University resulted in the revocation of acceptances for at least ten students due to an inappropriate meme chat.
Falsified Information
If you provide false information on your application to make yourself look better, a college may revoke your acceptance. It is highly impractical and ill-advised to fabricate aspects of your application, such as standardized test scores.
While some schools allow self-reported test scores, they require official scores from the College Board if you are admitted. Fabricating information related to extracurricular activities is easier but can still be detected if a college scrutinizes your letters of recommendation or contacts your school for verification.
Lying About Acceptance to Another College
Applying Early Decision to a college involves a binding agreement. If you break this agreement after being accepted under Early Decision, your acceptance to other colleges may also be revoked. Consult the dedicated article on this topic for more information.
Conclusion
It is advisable to maintain your academic focus during the final semester of high school and strive for similar grades to those you have previously achieved. While it might be tempting to ease off, putting in a little more effort is preferable to having your hard work and acceptance revoked.
Related Article: Is a C+ Enough for College?